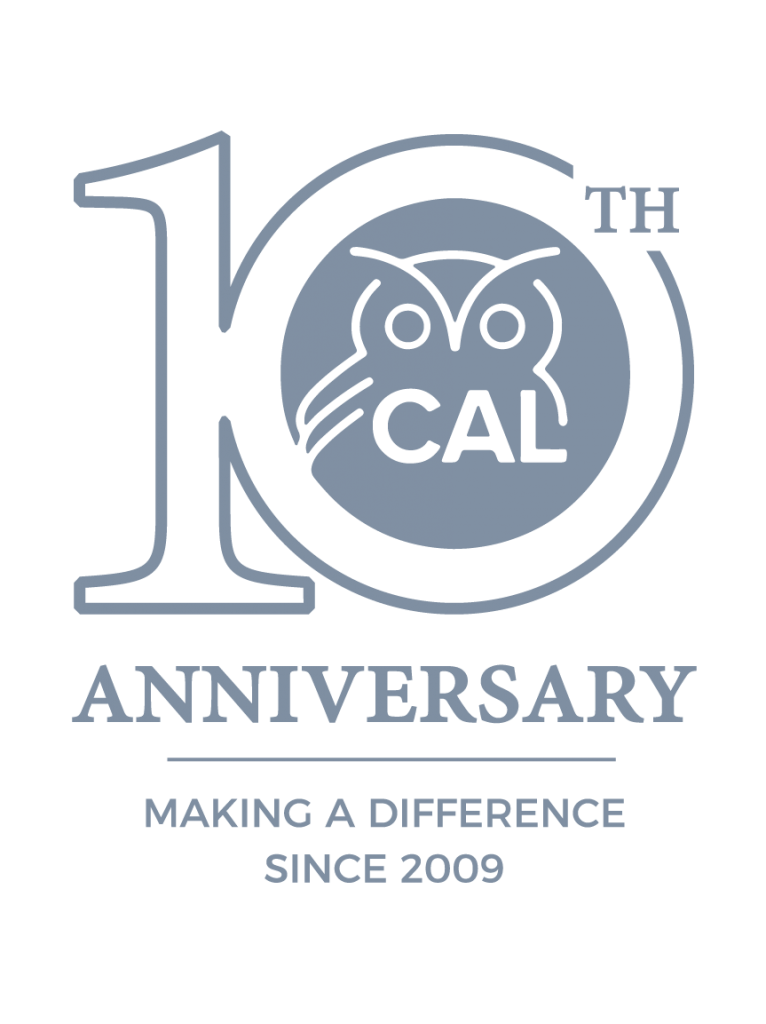 Celebrating Our 10th Anniversary
Humble beginnings and a grand vision.
In 2009 our founders, Helen Sabell and Rob Golding stepped away from their senior roles in the public education system, and courageously began the College for Adult Learning.
They wanted to change the way we deliver adult education. From small beginnings, they handcrafted bespoke courses to tailor to those with more experience. Realising the new direction of education, they took their college online to deliver their courses around Australia.
They built the foundation for an RTO that is committed to making a difference and inspiring transformation through learning.

Helen Sabell
Co-Founder, CEO, Principal

Rob Golding
Co-Founder, Director
After a decade of education, we are approaching 10,000 student enrolments, and our small team has grown from 3 to now 40.
As we prepare and plan for the next ten years, we have the opportunity to reflect on our past. We're in the best position to continue our passionate pursuit for education and ignite real change in the world.
We will always value first, above all else, lifelong learning and you – our students.
We are making a positive difference in people's lives; near and far, directly and indirectly, and we can't wait for what the future holds!

Helen Sabell
Co-Founder, CEO, Principal

Sarah Sabell
Associate Director, Learning and Development

Miriam Oxford
Learning and Development Manager

Rob Golding
Co-Founder, Director

Stephen Golding
Operations and Finance Manager

Chloe Bickerton
Marketing Manager

Matt Sabell
Business Development Manager
Our Journey
We began with an idea, we work with passion.
From our humble beginnings, our family-run business grew to serve more students in more ways and really deliver on our vision – to make a difference.
We live by this in everything we do, from our unique flexible delivery to our bespoke content written in partnership with industry leaders, through to our hands-on and personalised approach to support.
Follow us through our journey from kitchen table to the world stage and discover how we're making a difference.

2009
The Home Office
"In those days, people wanted face-to-face. So we had to do face-to-face."
It all started at a kitchen table. With his background in retail management, Rob consulted with individuals through a Diploma of Retail. Obviously this wasn't very scalable, so a small training space in Melbourne's CBD was leased

Helen Sabell
Co-Founder, CEO, Principal

Rob Golding
Co-Founder, Director
"Even for me, someone who had so many years' experience in that area there was plenty of takeaways, new things to learn."
Dijana, 2016 Graduate


2010
Our First Graduates
"Moving to Richmond was a big deal for us – having our very own training space.."

With a growing cohort of students, a larger training space was required, so the College moved to the inner city suburb of Richmond. With the new facility came new qualifications, including in HR, Project Management and Business Sales.

2011
Tides Turn
"We were responding to what the market was telling us – that we'd come to the end of face-to-face."

Whereas initially, middle managers were easily able to step out of the office to complete training, CAL received more and more requests for after-hours classes
I didn't go to college after school.... at the back of my mind, I thought, "I'll do it later". But then you get married, you have children and priorities change. But it was something that I always wanted to do, so [I] jumped on it and got it happening. So I am very grateful for everyone at CAL for helping me achieve my goals – it had been a long time coming."
Gail, 2018 Graduate

2012
Online Launch
"We had to wait for the mail to come to receive assessments. We had piles of assessments arriving all at once."

The first online courses became available, in HR and Project Management. CAL now serving 1,000 students – with just 4 staff. Even with course delivery happening online, assessment submissions were still coming in by mail.

2013
Classroom learning phases out
"It wasn't based on what we thought, but on what managers were telling us they needed"
Enrolments for classroom-based courses dropped, and online continued to flourish. By making qualifications available online, CAL was able to offer its services to students across Australia.
"I was determined to leave the world of hospitality behind – this opportunity just opened up a whole new world for me. I took this course and now I'm Practice Manager."
Lara, 2019 Graduate

2014
Fully digital
"We were ahead of the curve, and so when the in-person classes crashed out, we pivoted to fully online."
Following the last face-to-face course finishing, the training space was no longer required. CAL moved to a smaller office space, and increased staff to 12, to better look after their 2,000 students.

2015
New Horizons
"What we've decided we would do from the very beginning, we only offer what we understood really well - the management side of industry."
With a firm belief that any training offered by CAL needed to be based in management and leadership, the directors explored Building and Construction (Management). The interest was huge, and the course took off, bringing the total number of students to 3,000.

2016
Continued Growth
"We built the online format of CAL to be focused on constant contact with the students, and really being a part of their learning journey."
Again facilitating the steadily increasing student body, now at 4,000, the staff at CAL grew to 16. This also came with two new courses in Business and Business Administration.
"10 years ago, I was almost unemployable, now I'm being headhunted for roles. In 10 years, I will (hopefully) be retired."
Jeremy, 2012 Graduate

2017
Moving forward
"By 2017, we were out of space again – we had people sitting on each others laps!"
The continued growth of the student body necessitated another move to a new office. With 5,000 students, the CAL team grew to 20 staff, and introduced coaches and assessors working remotely. The Diploma of Practice Management was introduced, again focusing on the management side of a new industry.
After not having been back to school for 20 years, CAL made the learning experience something to remember, and I never thought learning could be so interesting"
Jason, 2012 Graduate

2018
New skills, new courses.
"We responded to what our students were telling us – they needed these additional skills, so we launched Quality Auditing."
2018 was another year of growth, thanks to increasing efficiencies, and the introduction of Quality Auditing.

2019
A decade of making a difference.
"We keep coming back to focus on Student Engagement – ensuring our students get what they need from us at every point of their learning journey."
Another move was on the cards, with CAL staff now at 42, to service the rapidly approaching milestone of 10,000 students.

Our Future
Now with a full leadership team, we're looking to keep driving CAL forward with the same passion to change the way adults learn.
Every one of our plans for the next ten years revolve around our core values. From delivering our courses in new and innovative ways to designing training for transferable soft skills, and right through to aligning ourselves with like-minded organisations, we're holding true to our vision to make a difference.

Helen Sabell
Co-Founder, CEO, Principal

Sarah Sabell
Associate Director, Learning and Development

Miriam Oxford
Learning and Development Manager

Rob Golding
Co-Founder, Director

Stephen Golding
Operations and Finance Manager

Chloe Bickerton
Marketing Manager

Matt Sabell
Business Development Manager
Some of our Favourite Initiatives
We're constantly looking for new ways to embody our values and live our vision. These are just some of the ways we've been able to do that.

Igniting Real Change
By pitching in and supporting like-minded charities and organisations, we have the incredible opportunity to make an impact. Discover how we're changing the world, one step at a time.
See how we're igniting real change
of our students surveyed would recommend our courses
of our students surveyed rated the coaching they received as excellent
Success Stories
We're striving to go beyond a piece of paper and create real outcomes for our students. From empowering those jaded by past experiences to encouraging those with the drive for lifelong learning, see how we're changing lives through learning.
See how we're creating success stories
How we're celebrating
We've decided to go big with our celebrations – we're hosting giveaways, releasing scholarships and creating exclusive offers, all as part of our dedication to transforming lives and igniting change.
Discover how we're celebrating our 10th Anniversary by living our vision and making a difference.
Power of Learning Competition
To celebrate our 10th Anniversary, we're giving away over $7,000 worth of prizes to help others make a difference.
All you have to do is tell us what you've learned over the last 10 years that's made the biggest difference.
Don't forget to share and comment to be notified who the winners are. Best of luck!
ENTER NOW
Exclusive CAL Scholarships
As part of our commitment to igniting real change, we opened an exclusive Scholarship offering. This was designed to help people that might not have the opportunity to study our courses, and empower them to make a difference.
We poured through hundreds of amazing stories to select 10 that inspired us the most.
Our winners have been dreaming of making a difference, and now we've given them just the opportunity they needed.
KRISTY
Diploma of Human Resources Management
"I am currently employed at a Special School in remote South Australia as the Business Manager/Finance Officer. For me, the CAL Scholarship would not only change mine and my children's lives but would have a flow on effect for our entire school community. If I were to win the CAL Scholarship, it would allow me to fulfil my dreams of showing my children (and those within our school community) that with hard work & determination, anything can be achieved. No matter your socioeconomic background, your distance from a capital city or your personal circumstances, if you put your heart, soul and mind to something, and never give up, you can achieve anything. "
DANIEL
Diploma of Quality Auditing
"Everyone remembers that one teacher who made a difference or left an enduring impression on them during their school years, often shaping in some small way who they would become as adults. However, behind every teacher, is someone establishing foundations and frameworks that allow them to focus on their Students; I believe is where I make a difference as the Risk & Compliance Officer. This CAL Scholarship will allow me to make a meaningful, lasting and positive difference on the School's risk and compliance culture, permanently shaping the attitudes and approach to risk, which will make a difference for all staff and students attending the School now and in the future."
SALLY
Diploma of Project Management
"In such a male dominated industry, it is an overwhelming thought to have to sign up to attend classes to get my certification. Two years ago I left the motor industry after 10 years, to pursue my love of property. My husband is a qualified builder and I am taking on property staging and small renovation management - we are working together towards a "husband & wife team". As we are in the first stages of establishing ourselves, the only thing that has been holding me back from taking the course is the cost of it. With this scholarship I will be able to take on projects (& help my husband) with confidence and qualifications. My 15 year old sister would love to be an engineer when she leaves school but fears it's "just not for me" - with this scholarship, along with my passion & drive, I can show the community and females that we can do this just as well as the next person."
Jodie
Diploma of Leadership & Management
"I currently work for The Salvation Army Noarlunga, looking after 70 volunteers. The scholarship would make a massive difference to how I assist in managing a large number of volunteers along with the local ministers. My goals are to always look at how I can improve how I work with people and conduct myself. Many people who volunteer with us have complex social, emotional, and life issues which can make managing them a delicate job. A scholarship would make a difference to myself in helping me become more effective in what I do and help the community in which I live."
Jaqui
Diploma of Human Resources Management
"I work in a great school that gives care and education to children and their families from the disadvantaged, low socio-economic area that it draws from. We have kids that have rough home lives, and some refugee families. This puts a lot of pressure on our teachers and staff as they help the kids fit onto a new country and life, or overcome the difficulties of a poor home situation to give them the best outcome for their futures. I am currently a staff counsellor and a policy writer there, but want to do more for them. The scholarship would potentially make the difference as to whether I could begin my path at this time, or whether I need to wait until finances are better to take the next step."
Edgar
Diploma of Project Management
"The CAL Scholarship will assist me in completing my life-long dream in starting my own non for profit organisation to assist vulnerable young people in the community. My biggest passion is assisting those less fortunate - in particular helping young people to become strong and more positive leaders. Through my years of working I have seen a real need for this kind of support. Studying and obtaining the Diploma in Project Management with CAL would give me the right tools and strategies in successfully developing impactful programs while building a long term support for young people in the community. The CAL Scholarship would allow me to not only achieve my personal goal but develop something quite positive in setting up an organisation for as many years to come."
Arkadiusz
Diploma of Project Management
"I am a leading hand for a tier 1 electrical service company. In the past 5-6 years I have undertaken a variety of electrical projects ranging from minor repairs, to being responsible for completing many large scale projects, and I have done this while still getting my hands dirty - assisting the guys under me in pulling in cables and assembling electrical equipment - always being on site during night shift and overseeing the job at ground zero, as well as spending hours in the office in front of a computer screen making sure everything runs smoothly. I strongly believe I can improve and grow in Project Management - I would like to build on my experience and get off the tools at some point in the future."
Julie
Diploma of Quality Auditing
"Although I had a wealth of experience when I left my previous role as safety auditor at an International Airport, I left without 'real' qualifications to support my career continuing to audit. Auditing at the airport is specialised and specific and although I am able to transfer the skill and experience, I still needed the proof. A scholarship to complete the Diploma is Quality Auditing would make a world of difference to me, it is the missing piece to my puzzle and would allow me to achieve a dream lasting over 10 years. I believe if I still want it now, then it is meant to be, and I will eventually make it happen. My experience and skill, together with help from the College for Adult Learning would make us unstoppable - we would make the perfect team. If you take a chance on me, I will make you proud."
Robert
Diploma of Project Management
"It would make a huge difference in my life because I have to get of the tools due to a back injury. I still want to be in construction but to manage jobs would be fantastic to further my success in life. I have managed plastering crews before and told what a great job I did. To teach others and get a job running smoothly is something I would be good at. As a full-time single dad the CAL Scholarship will help me get back on my feet."
Anne
Diploma of Leadership & Management
"I am passionate about the career development of females in the mining industry. Working closely with our HR Team, I will meet with our female employees to understand their career aspirations and how the business can support them on their journey. Encouraging more women to take on non-traditional roles such as engineers, geologists, surveyors and trades is a challenge I am keen to accept. Completing this Diploma will provide me with the credentials I need to foster positive workplace relationships, learn how to communicate with influence and implement change management processes - all crucial in delivering the workplace of the future."
Help us celebrate
Use a Facebook Filter or Facebook Frame to help us celebrate!
Upload your best shot to Facebook with the hashtag #10YEARSOFCAL and tag @CollegeForAdultLearning to join in the celebrations.
Don't forget to share with friends and family!
Try our filter
Try our profile frame



We couldn't have done any of this without the support and encouragement of all of our students, past and present.
From all of us here at CAL,

Our Sponsors
We're proud to have partnered with some incredible brands to help up bring our vision to life. Most have a similar story to ours - starting small with the drive to make an impact in the lives of everyday Australians.
From generous donations to exclusive discounts, we're grateful for every contribution.

Contribution: Travel vouchers
Universal Traveller are a dedicated travel team experienced in providing amazing deals with flights, accommodation, tours, insurance and car hire. They have generously contributed travel vouchers for two lucky winners in the Power of Learning competition, valued at $2000 and $300.
CAL has also partnered with Universal Traveller Melbourne to offer exclusive travel deals for CAL students.

[email protected]
03 9639 5110
Universal Traveller

Contribution: Stand-up desk
MOVI was created to reduce the serious health risks that come with long hours sitting at your desk.MOVI converts your existingdesk into a smart, electric standing desk in seconds, and arrives fully assembled. We are grateful to MOVI for donating a desk valued at $695 for one lucky winner, and a generous discount to all competition entrants.

Movi Workspace
Website
@moviworkspace

Contribution: Laptop
Dynabook, formerly Toshiba are well-known globally for their laptop computers, storage products and tech accessories. Dynabook have donated a laptop valued at $1395 to the Power of Learning Competition.

Contribution: Momentum Wireless Headphones
World renown, Sennheiser is shaping the future of the audio world with their modern state-of-the-art headphones and audio products. They have generously donated a pair of their fantastic Momentum Wireless Headphones valued at $599.

Sennheiser
Website
@sennheiser

Contribution: Prize Packs
Milligram offer stylish and well-designed stationery and lifestyle items from over 90 brands to the modern professional. Milligram have an online store and four physical stores across Victoria. They have kindly donated quality prize packs worth over $350 each for four lucky winners in the Power of Learning Competition.

Milligram
Website
@milligramstore

Contribution: Tiller time device
Tiller is a small device that lives on your desk, connected directly to your computer. It provides a physical reminder to stay on track, and brings mindfulness and deliberateness to the work you're doing, turning healthy time management into a habit. Tiller have donated one Tiller time device + a year premium software subscription for one winner, valued at $370.
Tiller
Website
@get_tiller

Contribution: Tristar Travel Bag

Tom Binh creates bags boasting of "lifetime guarantee, superior construction, and thoughtful design." Their products are recognised as some of the best work/travel bags in the world. The Tri-Star bag valued at $530 AUD has been donated for one fortunate winner to receive in the Power of Learning competition.

Website

Contribution: Study Success Goals

MiGoals is one of Australia's leading empowering stationery brand. They aim to help you unlock the potential within yourself to Dream, Plan and take Action on the life you want. MiGoals have donated 10 fantastic Study Success Packs for the winners of the Scholarship Competition, valued at up to $100 each.

MiGoals
Website
@migoals

Contribution: Resume revamping sessions

hiire is a job application consultancy that is passionate about creating customised, attention-grabbing resumes and cover letters. They have contributed 10 valuable resume revamping sessions for the winners of the Scholarship Competition, valued at up to $80 each.
hiire
Website
@hiireco