Do I Need a Qualification to Start a Business?

There are many fundamental elements to starting a business. It's important to have a grasp on how much work goes into a company's creation. With many skills and tasks to complete, having the guiding support of a diploma or qualification can help you get closer to your dream business. If starting a company is a goal you have, there are several things you must take into consideration.
Do you need certain skills to start your own business?
Starting your own business will generate many tasks that you have not thought of when deciding to pursue this venture. You will have to take into consideration finances, research, suppliers, manufacturers, distributors, marketing, sales, along with plenty more.
Here are the top five skills you will need to develop:
1. Decision making
You are the final say when it comes to making a decision. You have to know your product, how to market, how to cope with complaints, and much more. There will be pressure, and you need to be confident in your ability to make a well-informed decision.
2. Communication
Effective communication with your staff and customers will be key to your success. You must be able to enrol your team into your visions and goals to see them come to fruition.
3. Financial Management
Without financial investment, your business may struggle. Managing capital and cash flow will be crucial. Whether you do it yourself or you hire an accountant you still need a competent level of understanding how your finances work.
4. Delegate
You'll soon discover that you can't do it all by yourself, not if you want to thrive. You must learn how to delegate tasks and relinquish some control. Having extra help will mean you can manage your time more efficiently and do more, faster.
5. Negotiation
Conflict is always an inevitable element to business. You must have excellent negotiation skills, particularly when dealing with suppliers who want to make a large profit when you want to pay as little as possible. You must get good at negotiation and compromise until you have a deal that will work in your favour.
All of these skills are achievable to an extent on your own, but a Diploma of Business (Leadership) (BSB50120) and/or a Diploma of Leadership & Management (BSB51918) qualification will amplify those skills tenfold, and give you up-to-date, relevant knowledge. You will learn how to manage a business and build the knowledge that you need to succeed.
Match Your Strengths to the Right Diploma
Wondering which business diploma is best for you?
Take our quiz to assess your strengths and weaknesses, and find your perfect course.
GO TO QUIZ

Do you know how to hire the right people?
Finding employees that fit in well with your business is crucial. You need to ensure you hire people that will be positive contributors, hard-workers, and trustworthy. Without these traits, it will be difficult for your company to accomplish the goals you have set.
There are several key steps to take when expanding your team:
Use a checklist: Make a list of the skills, qualifications, traits, etc. that you want a candidate to have.
Carefully analyse applications: Ensure that you read through resumes thoroughly to make sure you understand the candidate.
Phone interviews: Before bringing your potential employee in for a face-to-face interview, speak with them over the phone to find out a bit more about who they are and why they are applying. This also helps to avoid bias when hiring as you are not consciously or subconsciously basing your decision on appearance.
Ask the right questions: If a candidate makes it to the interview stage, ask questions directly relating to how they will handle the role and their place within your business.
Check references: People tend to leave out the flaws they have in the workplace, so speak with their previous employers to clarify their successes and shortcomings in previous positions.
These steps along with several others are extensively covered in a Diploma of Business (Leadership) (BSB50120), ensuring you are given the right tools to build your team.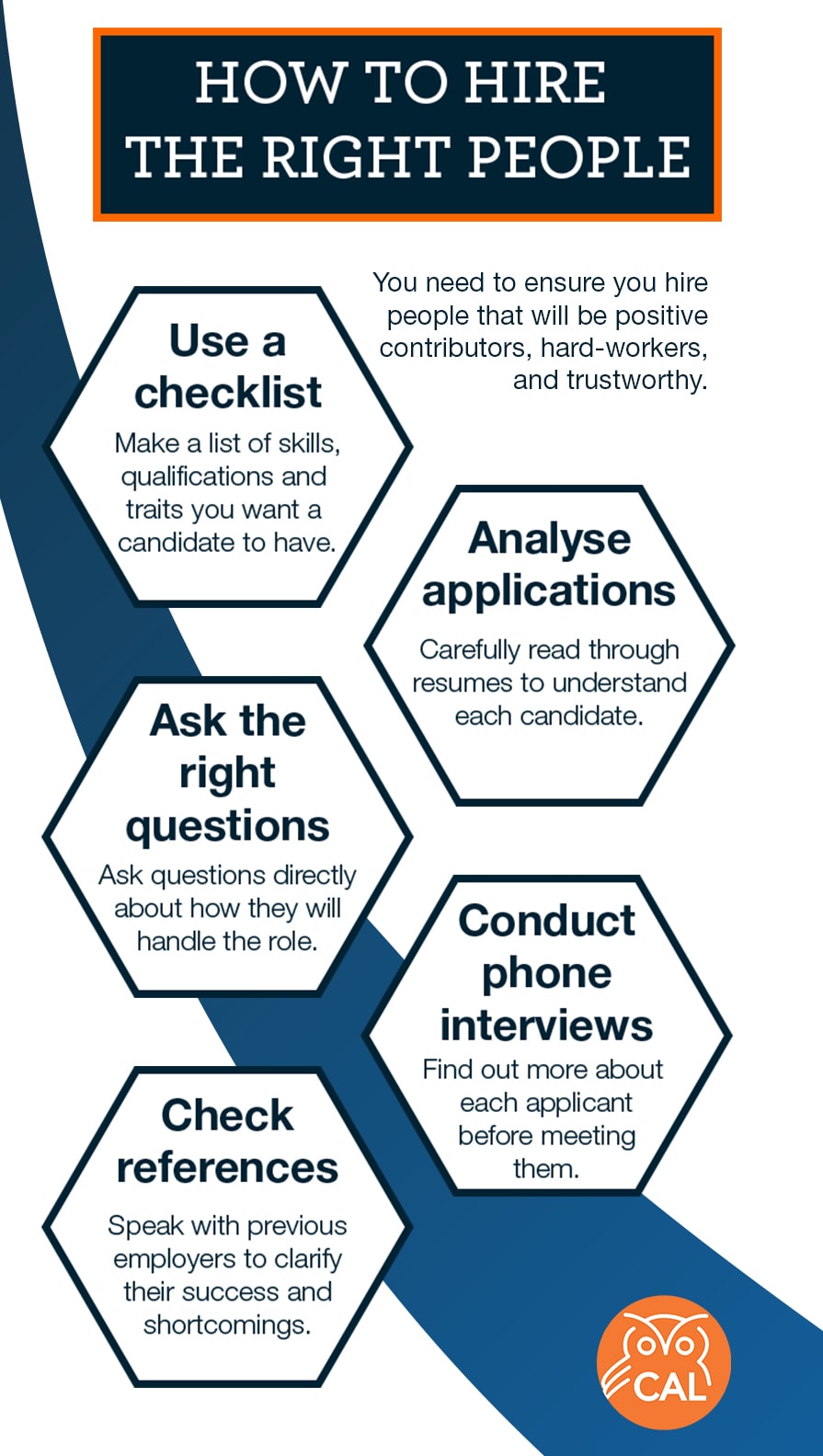 Copy the following embed code to share on your website:
Click on the text to copy the embed code.
Do you know how to effectively manage employees?
Being responsible for staff can be daunting. You are responsible for workplace happiness, promoting a strong work ethic and ensuring you are providing a good work/life balance. You are also in charge of conflict management and resolution among your employees.
If you have never owned a business and never had staff looking to you for direction, then being a boss can be a tough learning curve. A Diploma of Leadership & Management (BSB51918) qualification can give you the skills needed to put your business on the road to success.
Starting a business has the potential to be one of your most rewarding endeavours. You will see your ideas achieved and your product valued by consumers. With the fundamental help of a Diploma of Business (Leadership) (BSB50120) and strong determination, your business has the best chance to be a success from the beginning.